Posted:
January 23rd, 2009 |
Author:
mil3tt3
|
Filed under:
friday fillins
|
Tags:
friday fill ins
|
5 Comments »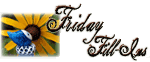 1. Oh, I am so worn out!
2. Welcome changes, big and little.
3. During confusing moments, I pray.
4. Intel Philippines is closing down; are you kidding me??? Yeah, its true!
5. Right now I'd like to be free from all the worries.
6. My HP desktop is my favorite gadget.
7. And as for the weekend, tonight I'm looking forward to talking to the husband, tomorrow my plans include laundry and cleaning up the house and Sunday, I want to get my HP mouse and exchange the defective 8gb sd card from the vendor!
More FF participant here!
---